---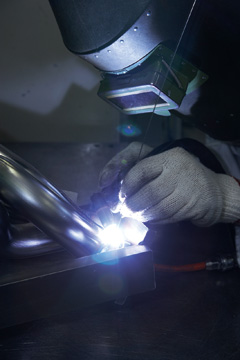 What is required for the development of the exhaust manifold is having equal length of pipes and perfect exhaust gas flow. On the dynamometer bench test, the pulsation, resonance and inertial effect of the exhaust gasses emitted from each cylinder in addition to the connecter's position of the primary, secondary, and collector as well as the pipe's diameter were studied to find out its optimum layout by delicately adjusting each length of the exhaust pipe and repeatedly making and trying the different configurations
Furthermore we would like to recommend High-Performance Engine Oil VT-α, which fulfills the hidden potentials gained through MUGEN manufacturing technology. This engine oil is 100% chemically compounded oil of SAE 5W-40 developed through repeated bench tests to be suitable for the Honda VTEC engine. High specification engine oil possessing proper viscosity; and with newly developed additives (MODIC: organic molybdenum), it can hold an oil film under severe conditions. Though performance of the engine oil is in no way inferior to that of the racing engine oil, it also has oxidation resistance and low temperature stability ideal for street use. MODIC, organic molybdenum can quickly be penetrated into the metal friction surface where it makes a smooth metal surface by forming strong lubricating surface which in turn reduces the friction resistance and minimizes the loss of engine power as a result. Proven by bench-testing.
We believe that the oil line also plays a very important role. The MUGEN oil filter is exclusively developed for naturally aspirated engines and has "Y" shape cross section rather than a round cross section of the ordinarily fiber filter material. By adopting the "Y" shape, we were able to succeed in reducing the sludge reentering into the system with the sludge efficiently stuck on to the filtering fibers. At the same time, pressure loss is reduced by 10% and significantly increases the high temperature resistance capability.
Available for NSX (NA1), S2000 (AP1/AP2), CIVIC TYPE R (FD2/FN2/EP3/EK9), INTEGRA TYPE R (DC5/DC2), ACCORD Euro R (CL7), Fit (GD) etc.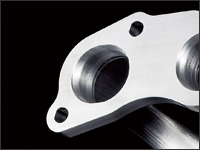 Each part of every MUGEN exhaust manifold is completely welded manually using a TIG welding process and the welding is performed by flowing the back sealed gasses to prevent oxidation so that the exhaust gasses flow perfectly within the pipes. Processes that will prolong the life of the exhaust manifold.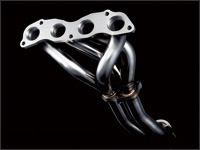 Stainless 4-2-1 layout-designed exhaust manifold, Lowering exhaust interference, this exhaust manifold shows an improvement of power and torque in all rpm ranges. The Sports catalyzer has excellent catalytic ability and high exhaust efficiency is adopted. For the vehicles such as INTEGRA TYPE R (DC5)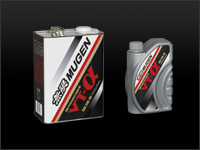 High-Performance Engine Oil VT-α
Engine oil which MUGEN has developed exclusively for Honda VTEC engines. Though performance of the engine oil is in no way inferior to that of the racing engine oil, it also has oxidation resistance and low temperature stability ideal for street use. High specification engine oil possessing proper viscosity, with newly developed additives (MODIC: organic molybdenum, it can hold an oil film under severe conditions. It is perfect for sports driving. Engine oil for four wheels four-stroke gasoline engines 100% SAE 5W-40 synthetic oil. 4L can and 1L bottle are available
---