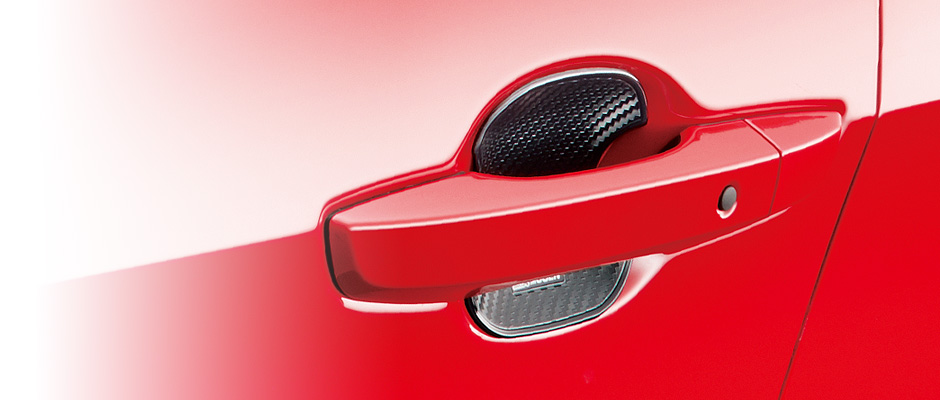 EQUIPMENT
Please be noted that this page introduces the parts installable on the vehicles in Japan. We do not confirm if those parts are also installable on the vehicles sold in foreign countries.
Hydrophilic LED Mirror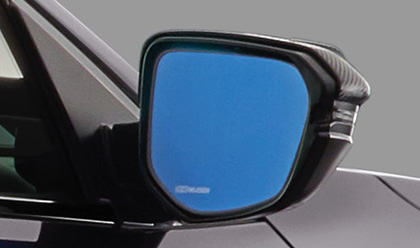 Multi-layer coated, blue color mirror which eliminates glare and reduces eye fatigue, making it safer for drivers. Hydrophilic coated mirrors developed by photocatalyst technology can clear driver's vision while driving in rain. The modified curvature of the mirror (1000R) allows a wider range of view for the driver. LEDs embed in the mirror of the winker, which light up corresponding to the winker. It completes with MUGEN logo.
HATCHBACKSEDANTYPE R
0.8h
76200-XNCD-K0S0
Carbon Door Mirror Cover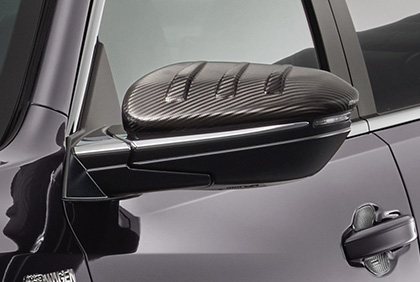 It is a CFRP door mirror cover, designed for optimum aerodynamics shape by performing computational fluid dynamics. It is covered with UV clear coating which prevents the cover from deterioration.
Scheduled release: End of May, 2019
HATCHBACKSEDANTYPE R
0.3h
76205-XNL-K0S0
Door Handle Protector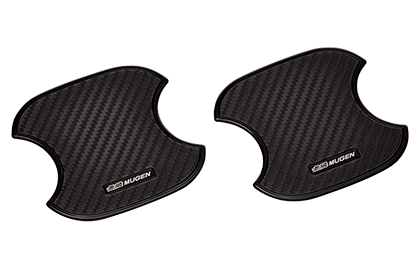 This protector not only prevents scratches caused by fingernails or other objects when opening and closing the door, but also features a carbon-style embossing that creates a sporty look around the door handle. Can be installed on both the front and rear doors. Set contains two S-size protectors.
HATCHBACKSEDANTYPE R
0.3h
08P48-XG8-K0S0-S
MUGEN Metal Logo Emblem

High grade three dimensional Chrome-plated metal emblem Two colors are selectable depending on car body color. Available in White and Black / Size: 20 (length) × 165 (width) mm
HATCHBACKSEDANTYPE R
[Chrome plated / White]
0.4h
90000-YZ8-DV62-WH
Recommended car body color : : White Orchid Pearl
[Chrome plated / Black]
0.4h
90000-YZ8-DV62-BK
Recommended car body color : : Crystal Black Pearl, Luna Silver Metallic, Flame Red, Brilliant Sporty Blue Metallic
MUGEN TITANIUM EMBLEM

Characteristics of titanium are considered to be machined and burned to get typical titanium gradation color
Size: 15 (length) × 110 (width) mm
Color varies depending on the product due to handcraft.
HATCHBACKSEDANTYPE R
0.1h
90000-XYE-301A
Carbon Number Plate Garnish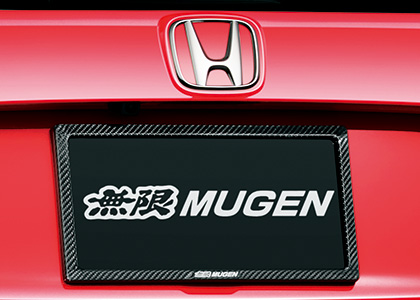 Number plate garnish made of the dry carbon
Finished with a UV-resistant clear coat to prevent deterioration including color fade
Rear plate can be installed after the stamp.
Not installable on the optical number plate.
REAR
0.1h
71147-XG8-K2S0
Number Plate Bolts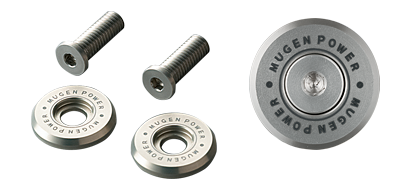 High grade machined number plate bolt, comprising of stainless steel head (washer collar) and bolt Laser printed with MUGEN POWER / Hexagonal socket-head is adopted as a protection against theft. / Head size: φ20 t=3mm. 2 bolts per a set Not installable on the optical number plate
HATCHBACKSEDANTYPE R
0.1h
75700-XG8-K0S0