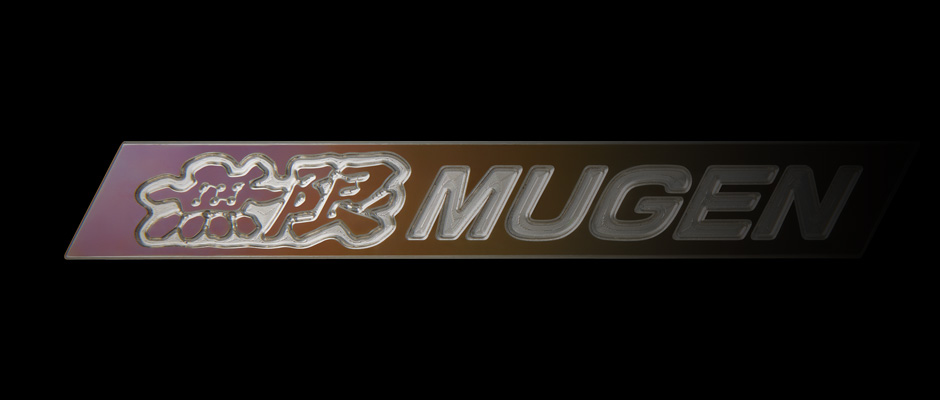 EQUIPMENT
Please be noted that this page introduces the parts installable on the vehicles in Japan. We do not confirm if those parts are also installable on the vehicles sold in foreign countries.
Carbon Number Plate Garnish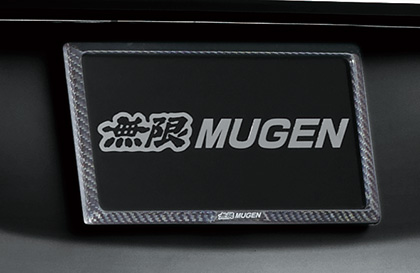 Number plate garnish made of the dry carbon Finished with a UV-resistant clear coat to prevent deterioration including color fade Size is almost the same as the number plate in order to minimize the disruption to the air flow to the radiator. Rear plate can be installed after the stamp.
Not installable with the backlit license plate
0.1h
71147-XG8-K2S0
Number Plate Bolts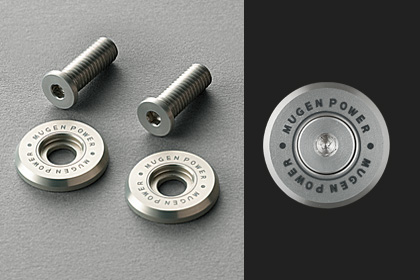 High grade machined number plate bolt, comprising of stainless steel head (washer collar) and bolt
Laser printed with MUGEN POWER
Hexagonal socket-head is adopted as a protection against theft.
Head size: Φ20 t=3mm, 2 bolts per a set Not installable with the backlit license plate
0.1h
75700-XG8-K0S0
Hi-Performance Oil Element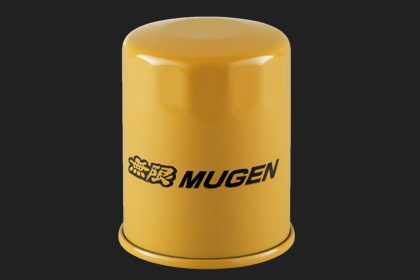 The filtering range and position of the filter are optimized in order to eliminate sludge deposits as much as possible, as a result reduces the low pressure loss (improved by 10%) while significantly increasing the high temperature resistance capability. By adopting a "Y" shape internal filter, which efficiently traps sludge on the filtering fibers MUGEN engineers have been successful in reducing the amount of harmful contaminants re-entering the engine lubrication system. Because of the materials, anti-heat acrylic rubber (gasket) and silicon rubber (anti-drain), this oil element functions without any problems in the high temperature condition of the engine.
0.3h
15400-XK5B-0000
Hi-Pressure Radiator Cap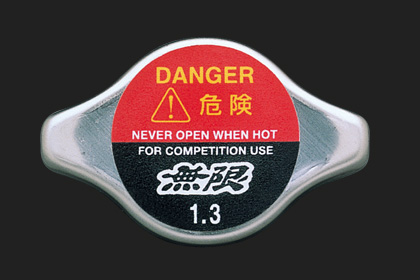 Opening valve pressure is increased to work effectively in high-load operation such as sports driving.
Opening valve pressure 1.3kgf/cm2[127kPa](STD 1.1kgf/cm2[108kPa])
0.1h
19045-XGER-0000
Engine Treatment Oil MT105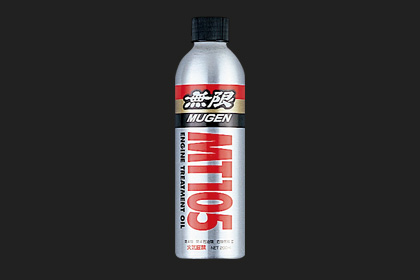 Molybdenum, a major ingredient of MT105, is quickly absorbed into the metal friction surface, filling surface irregularities and forming a smooth surface with a strong lubrication film, which in turn reduces the friction resistance and minimizes the loss of engine power as a result. Amount: 200ml
90000-YZ0-105
Hi-Performance Brake Fluid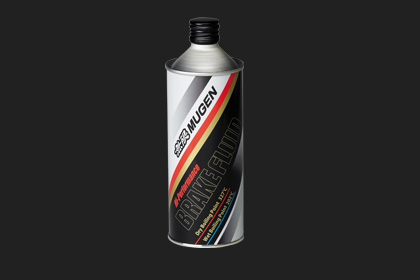 Specially developed high performance brake fluid for Honda vehicles, It helps prevent vapor lock with a dry boiling point of 327°C and a wet boiling point of 202°C, significantly exceeding the BF5 Standard. The high boiling points are maintained for a longer period due to the resistance to humidity absorption, which can cause lowering of the boiling point, and therefore the product has an increased useful life. 500ml.Two cans are necessary for full replacement.
90000-XYB-B000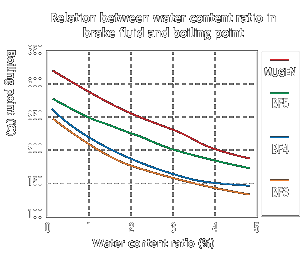 MUGEN Titanium Emblem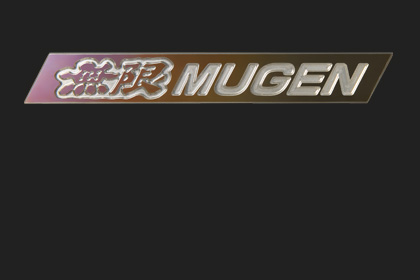 Characteristics of titanium are considered to be machined and burned to get typical titanium gradation color Size: 15 (length) × 110 (width) mm
Color varies depending on the product due to handcraft.
0.1h
90000-XYE-301A
MUGEN Metal Logo Emblem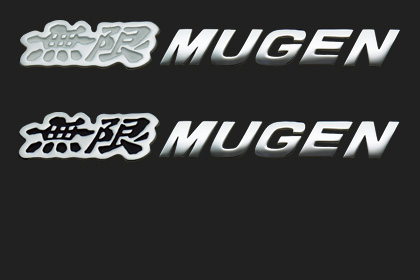 High grade three dimensional Chrome-plated metal emblem
Two colors are selectable depending on car body color.
Available in White and Black / Size: 20 (length) × 165 (width) mm
[Chrome plated / White]
0.4h
90000-YZ8-DV62-WH
Recommended car body color: White Orchid Pearl, Super Platinum Metallic
[Chrome plated / Black]
0.4h
90000-YZ8-DV62-BK
Recommended car body color: Crystal Black Pearl, Graphite Luster Metallic, Pomegranate Pearl, Gilded Pewter Metallic