---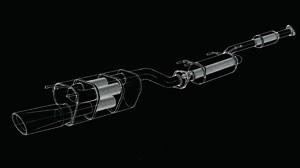 The ideal requirement for a performance exhaust system is, "low exhaust pressure." MUGEN has developed our own "Twin Loop Silencer" to satisfy this condition while accomplishing a high quality exhaust note. Recently considering a engine characteristics, complete combustion, MUGEN has been working hard to develop their expansion silencer, resonance silencer, and also deterioration-resistant sound absorption material to improve noise reduction, quality and durability.
MUGEN also applies such technologies to develop and adopt the optimum pipe diameter, layout, and silencer configuration, and finisher design. In addition development of the finisher along with its aerodynamic parts can surely create a sense of unity and balance to the rear of the car.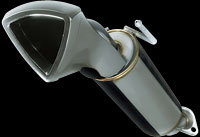 Delta-shape finisher designed considering the airflow around the muffler is adopted for Hybrid sports INSIGHT and CR-Z. The finisher contributes to not only exhaust efficiency and sound-absorbing efficiency, but also the aerodynamics of the MUGEN rear under spoiler.

TWIN LOOP
Silencing characteristics and the quest for exhaust efficiency: the two requirements imposed on exhaust systems have a contrary relationship, and in practice it is extremely difficult to achieve both. At MUGEN, we have continued to employ the straight configuration, with the design philosophy that low exhaust pressure must be provided, and that reducing exhaust resistance is an important part of the ideal exhaust system.
The straight configuration is widely used in racing, and is ideal because, as the name suggests, it provides low exhaust resistance. As a result of our quest for the ideal design for racing engines, MUGEN developed the "twin-loop-layout silencer" (exhaust system), in which the pipe is twisted into two loops and passes straight through the silencer twice.
This could be considered the ultimate arrangement, combining the concepts of "absorption" and "intervention" in an ingenious manner. It surpasses normal systems in power and torque over the full range, and provides the required silencing and the clear sound.
Available for CIVIC TYPE R (EP3/EK9), INTEGRA TYPE R (DC5/DC2/DB8) etc.
---