---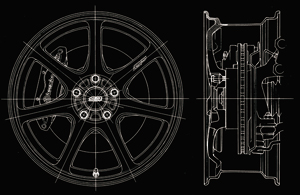 Aluminum Wheel GP
This is the flagship model (GP) of MUGEN developed exclusively for Honda's sports cars and sedans. Weight saving around the suspension has achieved a significant advantage of the good handling and braking performance. In general such weight saving might cause weakness against impact and durability reduction.
However, in the development of "GP," since we believe it indispensable to meet the conflicting requirements achieving both "lighter weight and high rigidity," we chose forged wheels which satisfy such requirements. Furthermore, we have adopted a special "spinning process" which requires more work than the standard forging process. The spinning process is to form a muscular structure or "forging flow lines" by adding several thousand tons of pressure on the aluminum material to shape the material.
Furthermore, it is a manufacturing process of forming rims by adding pressure and making it thinner while rotating the rim in the process. As a result, we were able to produce a special rim of higher rigidity and lighter weight with increased metal density.
Also, we have succeeded in increasing the rigidity of the spoke area by adopting a unique configuration of wheel's center section which has contributed to the lighter weight by reducing the wall thickness of the center cap area.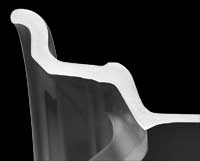 Most appropriate numbers and configuration, thickness, angles, etc. of spokes in order to secure the rigidity and durability of entire wheel were determined through the collaboration among designers, engineers and manufacturing staffs. Various prototypes were repeatedly manufactured and studied in details.
Naturally the hub fitting design exclusive for Honda cars was adopted and we were able to improve the driving performance by realizing a complete combination of wheels and hubs.
Though its design is highly complicated, through the "spinning process" weight-saving and high rigidity were achieved. GP is the high-performance MUGEN 7 spoke flagship model wheel that MUGEN, racing specialist developed.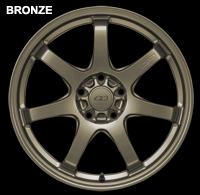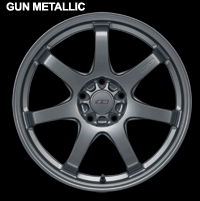 Inch

Rim width

Hole

P.C.D.

Inset

Color

18

7 ½

5H

114.3

48

Bronze
Gun Metallic

55

60

17

7JJ

5H

114.3

48

7 ½JJ

52

8 ½JJ

59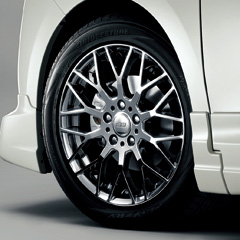 Aluminum Wheel XJ
Its intentional convex and concave shape design including mesh part designed large enough to reach flange is applied to create strong and sharp impression. Twin air valves placed on diagonal positions are adopted. By means of separate use of in and out valves of the new gadget, when nitrogen gas is injected, filling efficiency can get improved. In case i-TCMS is installed together, instead of air valve enclosed with i-TCMS, a special sensor holder can be used to minimize weight unbalance. Its hub fit design is exclusive for Honda cars.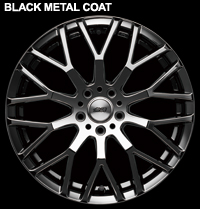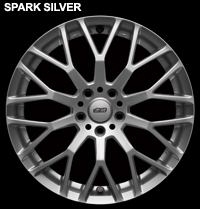 Inch

Rim width

Hole

P.C.D.

Inset

Color

19

8J

5H

114.3

58

Black Metal Coat
Spark Silver

18

7 ½J

55

17

7J

53

16

6 ½J

4H

100

55

6J

53

15

5JJ

45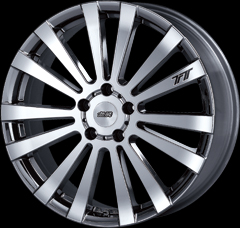 Aluminum Wheel TT
The abbreviation "TT" is derived from the capital letters of "Touring and Touring," a concept imaging the good driving performance. It is a large diameter 19 inch casting one piece wheel. Its off-set and hub fit design are exclusive for Honda cars and MUGEN original center cap comes with it (manufactured by RAYS). Available colors are black and black metal coat.
| | | | | | |
| --- | --- | --- | --- | --- | --- |
| Inch | Rim width | Hole | P.C.D. | Inset | Color |
| 19 | 7 ½J | 5H | 114.3 | 50 | Black Metal Coat |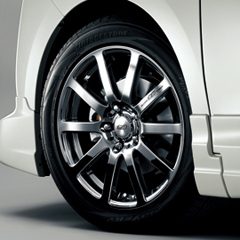 Aluminum Wheel NR
One piece cast wheel with 10 spokes having an excellent balance of rigidity (14 and 15 inch diameter wheels have 8 spokes). Available colors are 5 colors: black metal coat, mirror face, black, racing white, and silver. Its hub fit design is exclusive for Honda cars.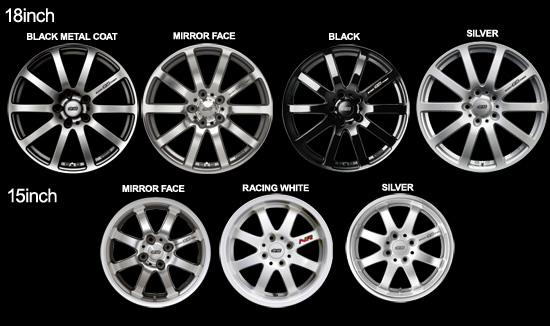 Inch

Rim width

Hole

P.C.D.

Inset

Color

18

8J

5H

120

50

Black Metal Coat

7 ½J

114.3

55

Black Metal Coat
Mirror Face,Black,Silver

17

7JJ

48

Black Metal Coat
Mirror Face,Silver

53

6 ½J

55

Black Metal Coat

15

6 ½J

4H

100

45

Mirror Face
Racing White,Silver

50

14

5JJ

42

Mirror Face,Silver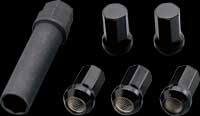 Heptagon [#7] Nut Set
For having an outstanding performance under such high heat conditions as the circuit running, chrome vanadium (28BCRV M) famed for anti-corrosion is adopted. 20 tapered wheel nuts (L=34) and an anti-thief heptagon socket are included. Color is black.
Not applicable for OE wheels.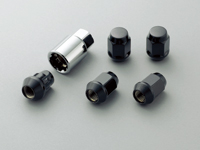 WHEEL NUT & LOCK SET
Taper type wheel nuts: 16pcs. for 5H, and 12pcs. for 4H, and lock nuts: 4pcs. Black color and silver plating are available.
---