---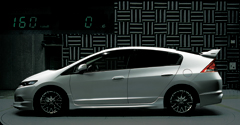 HYBRID INTELLIGENT SPORTS MUGEN INSIGHT
MUGEN Aerodynamic parts have been developed considering drivability from the top categories of motor sports to ordinary driving on street. In addition to emphasizing the MUGEN identity through effective styling the aerodynamic properties are also prioritized.
In general, by lowering CL and increasing drag, especially around rear area, it is comparatively easy to generate down force with the help of the wing spoiler, but in contrast, the front area tends to get lighter.
For INSIGHT, MUGEN accomplished zero lift (*) with a reduced Cd due to differentiation of the air flow in between upper and lower area. Styling designed to seek function leads to smooth air flow.
* Measured on the prototype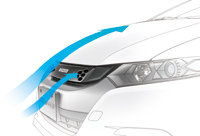 Due to exposure to static air pressure, the grille is designed to provide enough air for the radiator and create efficient air flow.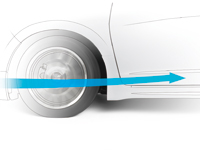 Decreasing clearance between rear fender and the tire by 30mm minimizes air flow turbulence.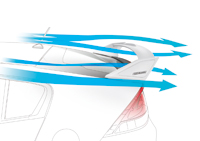 Its design can adjust air flow in the back side of the vehicle and contributes to ZERO lift without increasing Cd.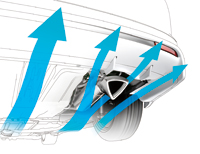 Unique delta form designed finisher, which enables both excellent exhaust efficiency and silencing effect, is adopted.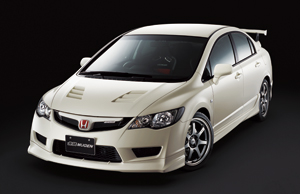 In case of a sports car such as CIVIC TYPE R, cornering performance must be prioritized at the circuits. CL balance between the front and rear area influences movement and balance of the vehicle. Therefore, traction control with the help of down force needs to be secured.
Rear under wing contributes to lowering CL.
Bonnet is made of carbon to attain rigidity and lose weight. Two air ducts play a role to emit hot air which usually tends to stay in the engine room.
We do not forget about exterior design, form of the front grille, the rear wing upheld by aluminum stays, and all the other exterior parts we poured our spirits into.
We believe the design of all such parts represent the heritage of MUGEN. Aerodynamics is one of the indispensable elements when it comes to aiming at ultimate sports driving.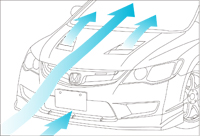 Deeply deliberated layout of the inlet and the outlet cool the high-powered engine efficiently.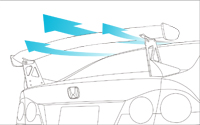 Wing spoiler which efficiently generates down force without increasing Cd
Depending on where to drive, you can change wing angle (from 0° to 12°) to adjust lift balance.
---