---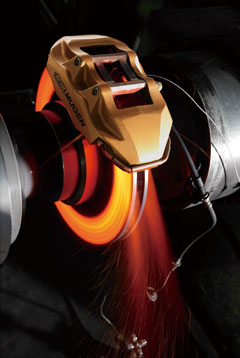 "Advanced Complete Brake system," at the very pinnacle of high performance brake systems, designed and developed exclusively for Honda sports cars such as CIVIC TYPE R (FD2/FN2), INTEGRA TYPE R (DC5), and MUGEN RR (FD2). The brake system is designed for a range of applications from street to circuit, and so can be called the ultimate brake system.
The concept of the "Advanced Complete Brake System" involves all components of the braking system. Front brakes calipers, front brake rotors, front and rear brake pads and stainless steel brake lines are designed specifically for each vehicle. Circuit testing was conducted at many race circuits including Twin Ring Motegi, a notoriously difficult track for braking systems.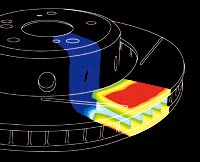 The picture to the left shows a computer simulation of the heat distribution of the brake rotor. After exhaustive design work, the optimum design of the brake rotor is determined. Once this design has been completed, bench testing as well as real world driving tests are used to finalize the design.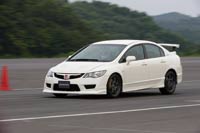 This testing involved all aspects of brake performance including stopping power, endurance and sensory feel to determine the optimum design that would stand up to full-scale circuit use.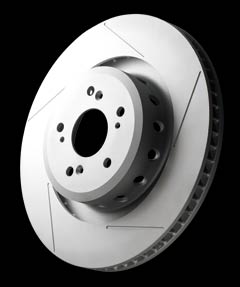 Brake Rotor
Brake rotor sizing plays an important role in increasing brake torque. The "Advanced Complete Brake System" uses 320mm diameter brake rotors, a 20mm increase over the factory brake rotors. MUGEN also increased the thickness of the brake rotor 3mm, from 25mm to 28mm. This change allowed MUGEN to increase the number and size of the internal cooling vanes to optimize rotor cooling.
The holes also decrease unsprung and rotational weight. Five grooves are milled into each side of the rotor to remove dust and keep the surface area clean. Lastly, the brake rotors are produced using a special high carbon material to resist cracking and other stress related failures.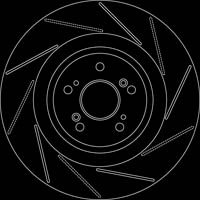 The width, depth and angle of these grooves were all determined through testing to find the correct balance between coefficient of friction and brake performance. These grooves are also milled asymmetrically front to rear to minimize any unpleasant brake judder.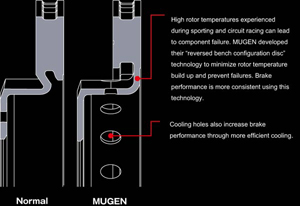 High rotor temperatures experienced during sporting and circuit racing can lead to component failure. MUGEN developed their "reversed bench configuration disc" technology to minimize rotor temperature build up and prevent failures. Brake performance is more consistent using this technology.
Cooling holes also increase brake performance through more efficient cooling.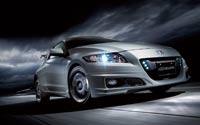 Brake Pads exclusive for Hybrid Vehicles
The brake pad for INSIGHT is the one that MUGEN could embody our idealized concept, "Control at driver's will" in the product. In addition to accumulated technological capability and power of development, the experience at the very first trial Hybrid car race (MUGEN of winning the class championship at Enjoy Taikyu Race 2009) is fed back to the product.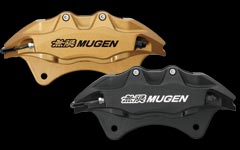 Monoblock Caliper
Rigidity is regarded as the centerpiece of brake tuning. Increasing rigidity helps the brake pads maintain consistent, even contact with the disc. The result is, stable braking is ensured under any severe conditions, and driver receives excellent feedback from the direct response of the brake system corresponding to the pedal touch.
MUGEN chose a monoblock 4 piston caliper design for absolute caliper rigidity and an even clamping force over the entire brake pad area. Unlike common aftermarket calipers, the MUGEN calipers incorporate an axial mount so no adapters are required (which would contribute to increased flex), again improving the rigidity of the system. Dust boots are incorporated to keep the caliper pistons free from moisture and grit. Gold and Black colors are available (*).
*Red and gold colors are available for MUGEN RR (FD2).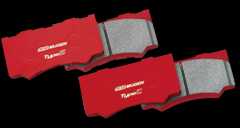 Brake Pad
Considering configuration of the caliper in the advanced brake system, the brake pad is newly developed for each vehicle. Mounting front and rear pads as a complete set can help prevent imbalance of the vehicle. Depending on purpose and the vehicle, friction material can be chosen from two kinds, "Type Sport" or "Type Competition".
| Product Name | Type Sport | Type Competition |
| --- | --- | --- |
| Where to drive | From Street to Short track | From Short track to Full-scale track |
| Tires | From Normal tire to High grip radial tire | From High grip radial tire to S tires |
| Driver | Drivers mainly drive on streets, and occasional sports driving including circuit driving. | Drivers who put importance on performance in circuit driving |
| Proper temperature range | From 50°C to 550°C | From 100°C to 700°C |

Brake Line
Brake lines possessing both high flexibility and durability properties are developed specially for INTEGRA TYPE R (DC5). 1 set of front lines, and 1 set of rear lines as optional items.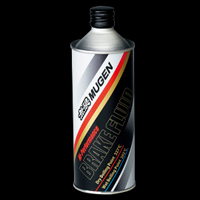 Hi-Performance Brake Fluid
2 cans (500ml per can) of hi-performance brake fluid enabling the brake system to work to the maximum are included with the brake system.
Dry boiling point: 327°C
Wet boiling point: 202°C
Brake Pipe
The brake pipe is developed specially for CIVIC TYPE R (FD2) and MUGEN RR (FD2), and is the same to install as OE pipe.
Splash Guard
Exclusive splash guard to protect the caliper and peripheral parts round the rotor from heat and stone chips for CIVIC TYPE R (FD2) and MUGEN RR (FD2)
---