---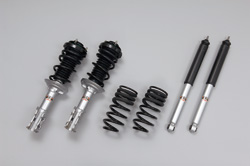 In developing the sports suspension, MUGEN considers the interaction between tires and suspension, and determines the clear purpose, that is, direction of the suspension. After that we develop not only the suspension and its related parts, but also will investigate the ideal size and manufacture of tires, which in the end provides a totally optimized suspension system.
For instance, in case of CIVIC TYPE R, due to its suspension being close to perfect, improving drivability could almost be ignored, but, through validation tests in which a combination of various parts, and data including damper, spring, load balance, tire matching, were investigated with the help of a professional driver, to create a suspension system, which everybody can enjoy.
Particularly with sports cars, customers expect sporty handling and a direct feeling; therefore movement of the car while in acceleration and traction are key elements to be considered. MUGEN's intention is to create suspension compatible with both street and circuit driving, and through careful suspension setting and specification.
MUGEN aspires to provide suspension suitable for a wide range of conditions where any driver can experience a vehicle with assured handling and drivability. The development starts with the aim to make use of original specs wherever possible whilst striving to enhance them to find the ultimate driving potential.
Available for S2000 (AP1/AP2), CIVIC TYPE R (FD2/FN2/ EP3/EK9), CIVIC (FD1/EK4), INTEGRA TYPE R (DC5/DC2/DB8), ACCORD Euro R (CL7), ACCORD (CU2/CL9), INSPIRE (CP3/UC1), FIT (GE/GD), INSIGHT (ZE2), CR-Z (ZF1) etc.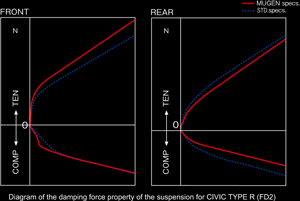 Damping force was increased to bring about more direct driving feeling, and softened to secure drivability. The chart above shows damping force comparison between OE suspension and MUGEN sports suspension.
---